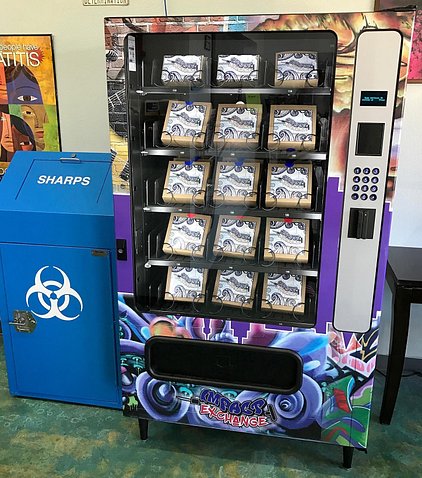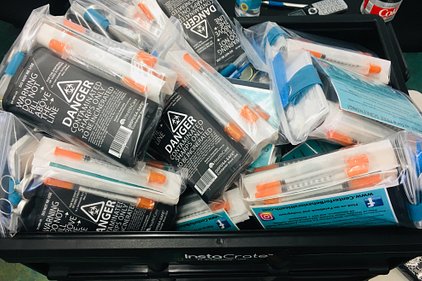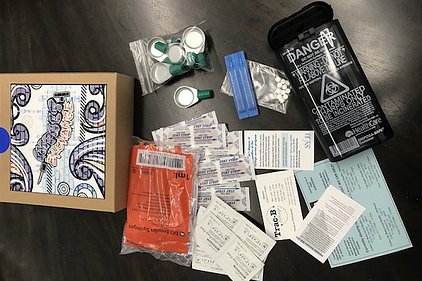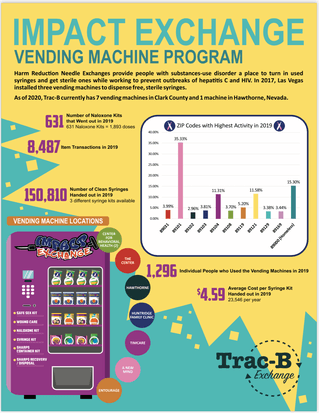 Scan this QR code on your phone to sign up. Once you are finished stop by the storefront with some form of Identification to receive your vending card. Call 702. 840.6693 for any questions.
Harm reduction kits:
Syringe Kits:
sharps container

cookers

cottons

bandaids

sterile water

sterile syringes
Naloxone Kits:
Nasal Naloxone has 2 doses.

Injectable Naloxone has 3 doses
Hygiene Kits:
toothbrush

toothpaste

body wash

soap

comb
First Aid KIts:
bandaid

gauze

antiseptic towelette

antibiotic ointment

Iodine prep pad
Safe Sex Kits:
Impact Exchange Vending Machines
Trac-b Exchange currently has 8 harm reduction vending machines in Las Vegas. These vending machines are the first and only of their kind in the United States. Anyone 18+ with some form of ID (picture ID with birthdate) can come into Trac-B Exchange (6114 West Charleston Blvd, 89146) and sign up for a vending machine card, online or at our storefront:
Huntridge Family Clinic: 1830 East Sahara Avenue, 89104
The Gay & Lesbian Community Center: 401 S Maryland Parkway, 89101
Center for Behavioral Health: 3050 E Desert Inn Road #116, 89121
Center for Behavioral Health: 3470 W. Cheyenne Ave. #400, North Las Vegas, 89032
Hawthorne: 105 A Street Hawthorne, NV
Everything in the vending machines is free, and participants will have their own unique card/pin number. Participants can access the following:
1 box of 30 syringes (once per week)

sharps box

1 Naloxone kit (once per month)

hygiene kits

first-aid kits

pregnany tests and safer sex kits
All machines carry syringes other products may vary by site.
Be sure to check the hours of the locations; they are different than Trac B Exchange's hours. The vending machines are convenient and discrete; participants can go in and out of the building and obtain their supplies without having to speak to anyone, and every location has a large sharps container for syringe returns.